Submit Your Soul to Cute Waifus in Eversoul
2023-05-31

Unduh
Table Of Contents
Gameplay of Eversoul
Classes and Races of Eversoul
Artifacts Guide
Undead Souls Guide
How to Install Eversoul on GameLoop
Useful Links
Eversoul is a gacha game with idle mechanics developed by the South Korean company, "Kakao Games". The company is famous for other hit titles such as Guardian Tales, Archage, and Eternal Return. This idle game features a real-time battle system with beautiful and fluid animations. Your characters in Eversoul are cute anime girls with an adorable art style. You progress the game manually by doing combat sequences and when you are offline, the game gathers materials for you based on your manual game progression! Players must create teams using various types of characters known as "Souls", or basically your cute waifus! Players can get these so-called Souls using the summoning system in Eversoul. The game's combat mechanics are quite intricate and engaging! You have to manipulate races(elements) and formations in order to get the advantage in every battle. The Souls in Eversoul, divided into six different races. Each one of these anime factions has its own set of unique skills and battle animations. There are various game modes, an open-world segment, and a town management mode. So, there is plenty of content to keep you coming back to Eversoul for more!
Gameplay of Eversoul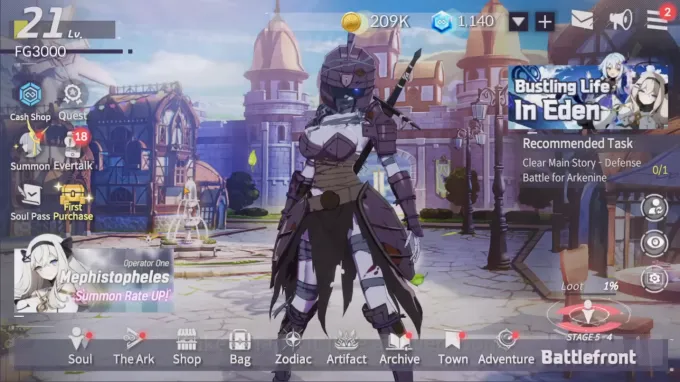 Eversoul is a gacha idle game with visual novel mechanics. Gacha games are games like "Genshin Impact" and "Honkai Star Rail" in which you have to summon new waifus and heroes using paid or earned currencies in-game with very low drop rates. Idle games are games like "Egg, Inc." in which you play the game manually for a while and then let the game play itself automatically and earn items and components for you when you are away. Eversoul is a combination of these two genres! The more you progress in the Eversoul, the more the effectiveness of the yielded offline would increase. Your main game stage progression is quite separate from the main story. The main story of Eversoul is in an adventure/exploration format. Characters have different races and stacking the same race in your team yields a stats boost. You can change the formation of your team before each encounter and create the most suitable team for each encounter. There is another visual novel segment to Eversoul in which you go through an anime-inspired story revolving around the waifus you will be summoning.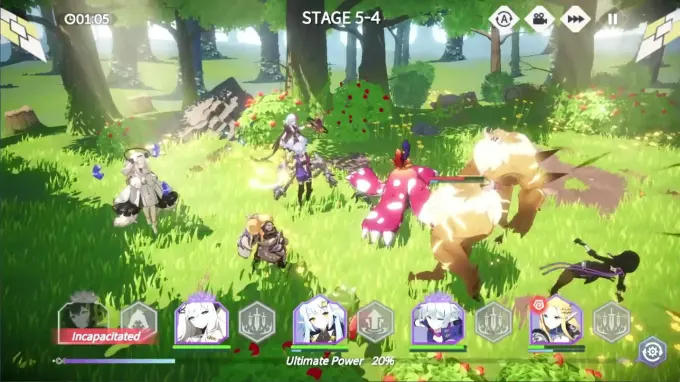 In Eversoul, changes in your formation can alter your stats for the next battle as well. As soon as the battle begins, your waifus and the enemies would appear on the screen and they would start auto-attacking each other. The only thing you need to do is to find the best time to use your waifus' special skills! You can even automatize that as well! There is a system that lets you sort the priority of the special skill activation. So, you can for example tell one of your units to do their ultimate skill before others! The battles in Eversoul are beautiful and the anime-inspired animations look great. The gameplay of Eversoul revolves around whether or not your waifus are fully leveled up and prepared for the battle and whether you have the correct team, race, and formation setup for the battle.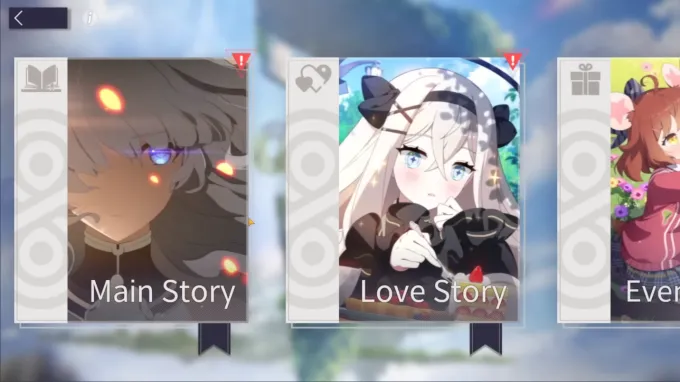 The story of Eversoul is separated into different sections such as "Main Story", "Love Story" and "Event Story". The Main Story is where we would see a shift in gameplay. You can roam within the boundaries of each chapter in the story as a Chibi character, just like an adventure game, and do tasks for the progression of the story in Eversoul. And seldom do you get into the standard fare combats within these bite-sized story episodes. You can learn more about your waifus and the world in Eversoul through these stages. You can romance with your waifus and gain various types of bonus items and materials.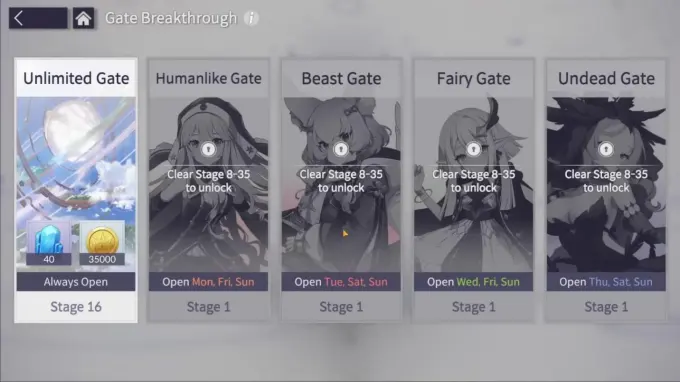 In Eversoul, we also have some side game modes! In "Gate Breakthrough" you play through an infinite number of combat stages in order to obtain set rewards. We have normal and race-specific stages. The other side mode in Eversoul is called "Dual Gate" and you basically have two different encounters. In the first encounter, your anime party receives a buff to its stats and in the second encounter, you have to deal with a debuff to your team. But be aware that you can not use the units you have already used in the first encounter for the other encounter as well. So, you eventually need to build separate teams. This gameplay mode in Eversoul is really fun and I would recommend it. You have to utilize all of your waifus at the same time. The next gameplay mode is called "Dungeon" and this is your labyrinth roguelike game mode, in which you need to progress the stages as much as you can. This gameplay in Eversoul mode spans over several days so keep that in mind! In "Hall of Memory" you go through the main story locations of Eversoul and look for treasure chests while exploring the world in your chibi mode! And last but not least, in "Arena", you fight against other players and test your abilities in a PvP arena. In Eversoul, you also have a town management game mode as well! And when you dispatch your units to get materials, you can see them doing part-time jobs within your town which is really cool! So overall, Eversoul packs various types of game modes and amazing anime waifus' action!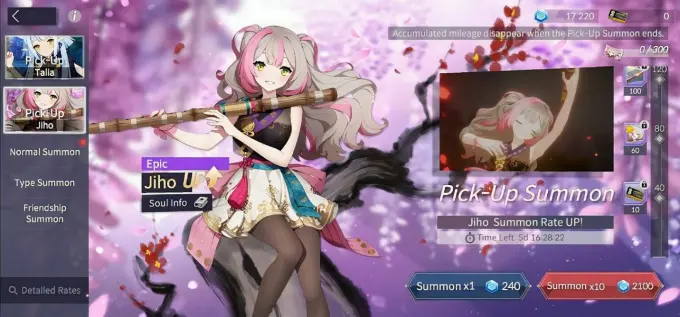 Just like any other gacha game, in Eversoul you need to summon your waifus before being able to use them in a battle! You can either use your wallet or grind the game in order to get the credits required to roll for new units. Eversoul is mildly generous at the beginning and you can easily create a decent team as a F2P player. The summoning is quite fair and you usually get decent units. You also roll for artifacts and equip them on your waifus in order to upgrade their stats and skills.
Classes and Races of Eversoul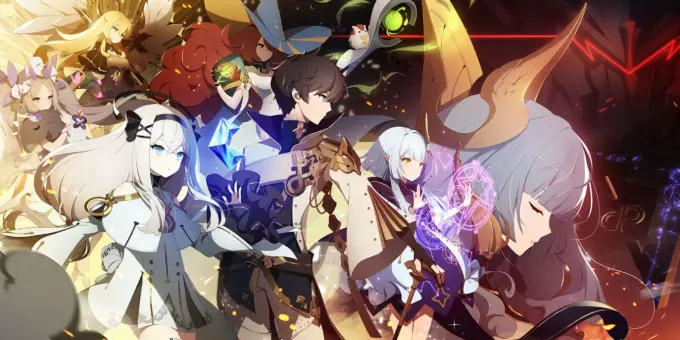 Classes:
These are the available classes in Eversoul. Your waifus are assigned with these classes which take various roles in your anime battles:
Caster:

This class specializes in ranged attacks and possesses the ability to unleash devastating magical attacks.

Defender

: Defense Abilities, Reduce team damage

Ranger

: Ranged attacks and precision disabling of enemies.

Striker:

Specializes in close-range combat and possesses powerful physical attacks.

Supporter

: This class is specialized in providing support to the team by healing allies and granting buffs.

Warrior

: Specializes in close-range combat, dealing devastating physical attacks and withstanding heavy damage.
Races:
Every character you unlock or summon is from one of these races:
Angel
Beast
Demon
Fairy
Human
Undead
Artifacts Guide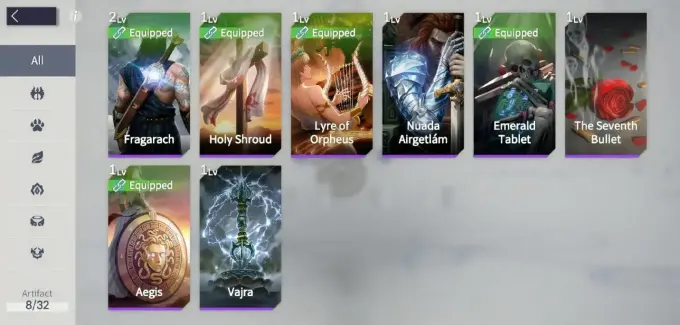 In Eversoul, artifacts are locked up until a certain point in the game so keep that in mind. After you have progressed enough you will unlock the summoning system and you can summon special artifacts for your waifus. In Eversoul, some artifacts are more compatible with specific waifus. Keep in mind that you should always summon the artifacts that you require for your specific waifus. You should always keep your main team of five waifus with the best artifacts possible. Even if Eversoul forces you to summon a specific artifact, go back to your inventory and try to summon the artifacts that you truly require.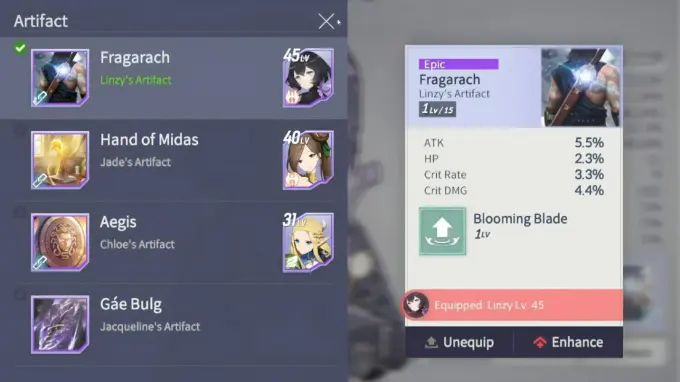 In Eversoul, equipping your waifus with the correct artifacts can benefit your anime squad with the best performance and combat boost on the battlefield. You can raise your offensive power, HP, and other perks by equipping the correct artifacts for your waifus. You can wish for the artifacts using the "Everstone" currency in-game. This currency is earned through your progression in Eversoul, so keep track of your earned Everstones. You can use Everstones to summon Souls and Artifacts. Always balance out between these two and summon according to your need. DO NOT summon too many souls or too many artifacts. Always summon based on needs. If you do your daily quests, you will be rewarded with tickets used for summoning artifacts specifically, so keep that in mind as well and always come back to do your daily tasks in Eversoul!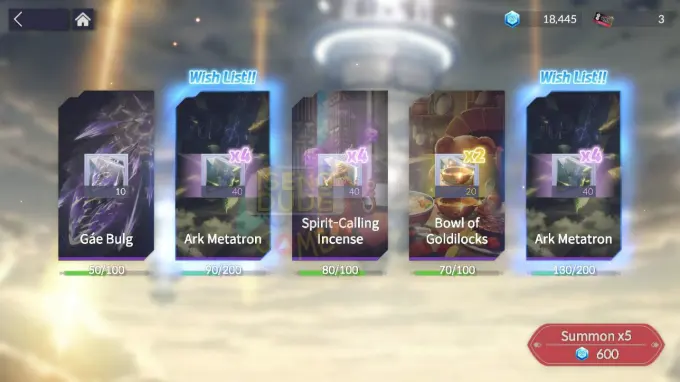 Your artifacts are quite adaptive to your waifus and they will scale to them. Always equip the artifacts that are compatible with your waifus or you will lose out on a lot of stat bonuses. Remember to ascend your artifacts' skills alongside your waifus' skills! Keep in mind that upgrading them gives you a marginal boost in stats, so do not neglect them! Focus on your healers' artifacts as they will help you heal more HP during battle. In order to upgrade your artifacts in Eversoul, you need stones that you can acquire throughout the game by killing random enemies. You can always go for "Part-time Jobs" and "Hall of Memories" to get the most loot possible! Always keep the artifacts to a level similar to your waifus' llevel. Ascend your artifacts according to your waifus' ascension and so on. Try ascending the important artifacts for your important waifus first as the material used for it, "Artifact Memory: Verja", comes by rarely. In Eversoul, can also buy artifacts from "General Shop". So, check back on the shop for available artifacts that you might be interested in! "Traders" do also sell some artifacts in the "Hall of Memories".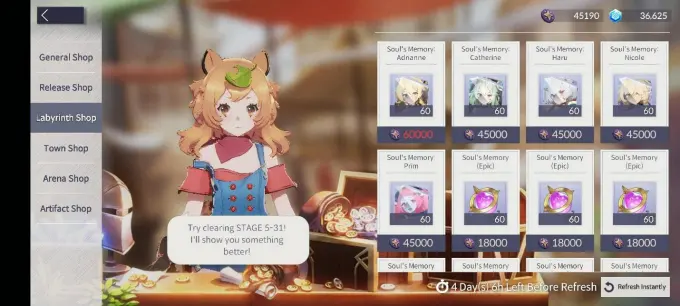 Remember to check back on "General Shop" and "Release Shop" in Eversoul, for the items you might be interested in for purchase. You need "Artifact Stones" and "Advanced Artifact Stones" that you can find throughout the higher levels of the game. (Level 11-20) You can also purchase artifact packs if you want to spend some money on Eversoul! There are limited-time artifact packs that you can purchase from the shop. These packs do change over the weeks, so keep that in mind. There is a monthly subscription pack in Eversoul that gives you more souls, the ability to skip battles, and many other features to get the most out of this anime waifu game.
Undead Souls Guide
Here's a brief explanation of one about one of the best races/factions in Eversoul called "Undead" Souls. The infographic waifus in this section can be found in this reddit post.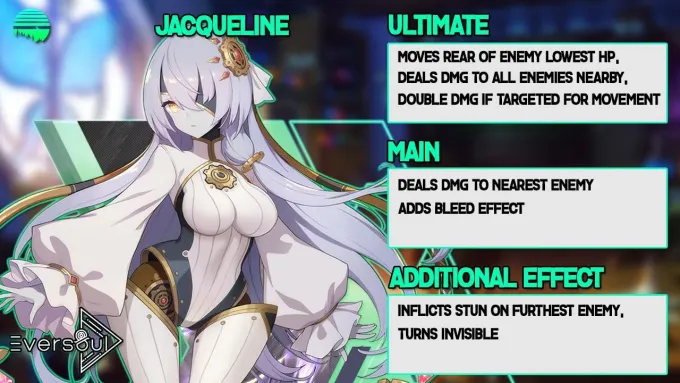 Ultimate: Moves to the rear of the enemy with the lowest HP. Deals damage to all enemies nearby. Double Damage if she gets targeted for movement.
Main: Deals damage to the nearest enemy. Adds Bleed effect.
Additional Effect: Inflicts stun to the furthest enemy. Turns Invisible.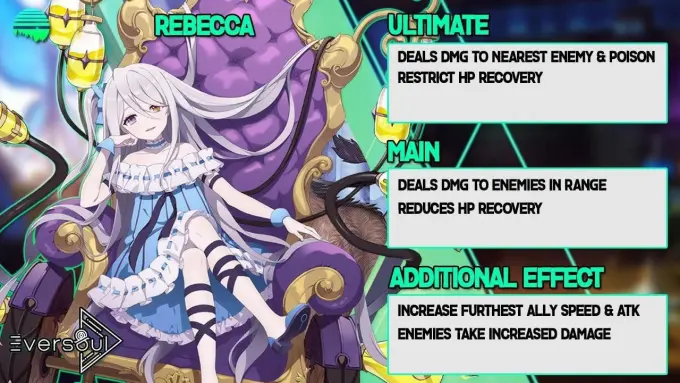 Ultimate: Deals damage to the nearest enemy and poisons them. Restricts HP recovery.
Main: Deals damage to enemies in range. Reduces HP recovery.
Additional Effect: Increase furthest ally Speed and Attack. Enemies take increased damage.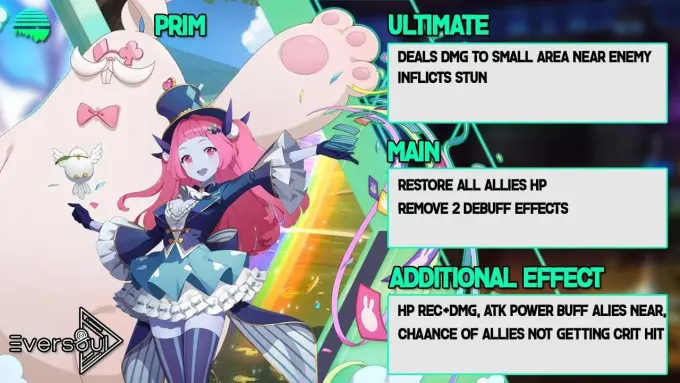 Ultimate: Deals damage to a small area near the enemy. Inflicts stun.
Main: Restore All allies' HP. Remove 2 Debuff Effects.
Additional Effect: HP Recovery+Damage, Attack Power buff for allies near you. Chance of allies not getting Critical Hit.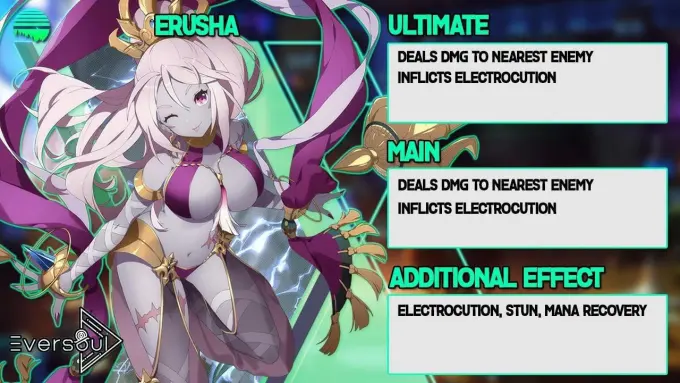 Ultimate: Deals damage to the nearest enemy. Inflicts electrocution.
Main: Deal damage to the nearest enemy. Inflicts electrocution.
Additional Effect: Electrocution. Stun. Mana recovery.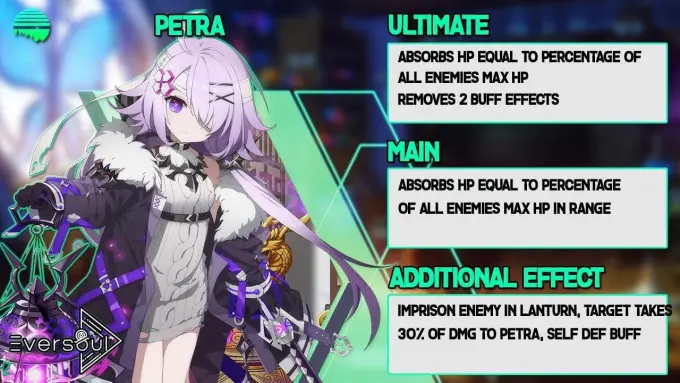 Ultimate: Absorbs HP equal to the percentage of all enemy's max HP. Removes 2 buff effects.
Main: Absorbs HP equal to a percentage of all enemies' max HP in range.
Additional Effect: Imprison the enemy in Lanturn, the target takes 30% of the damage to Petra. Self-Defensive buff.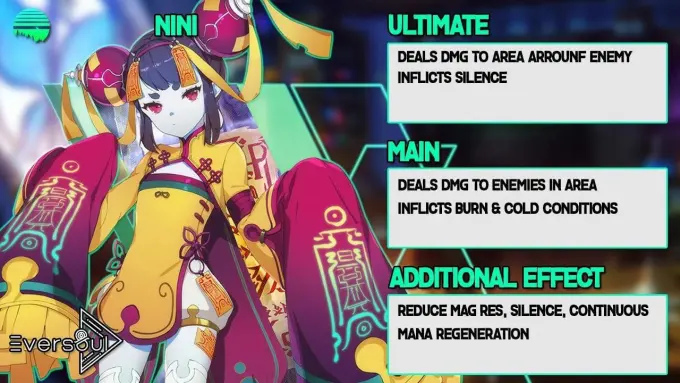 Ultimate: Deals damage to the area around the Enemy.
Main: Deals damage to enemies in the area. Inflicts Burn and Cold Conditions.
Additional Effect: Reduces Magic Resistance. Silence. Continuous MANA regeneration.
How to Install Eversoul on GameLoop
Follow these steps to install and play Eversoul on the GameLoop emulator.
1. Install GameLoop: From the official GameLoop website, download and install the GameLoop Android emulator on your computer.
2. Launch GameLoop Emulator: Open the GameLoop emulator and proceed to allow any required updates to be installed.
3. Search and Install Eversoul on GameLoop: Utilize GameLoop's game search functionality to find the game on the store. From the search results, select the "Eversou"l game and then click "Download" in order to start the installation process. Eversoul will be downloaded and installed on your computer by the GameLoop emulator. The installation time for Eversoul depends on your Internet connection bandwidth.
4. Launch Eversoul: After the installation process is done, the GameLoop interface will display the Eversoul game in the library. Click on the Eversoul icon and enter the game. Proceed to sign in or create an account in order to play Eversoul. Follow the on-screen instruction.
5. Customize Settings: You can change Eversoul's various types of settings, such as the quality of the graphics, the controls, and the audio settings.
Remember to adjust the key mapping from the GameLoop taskbar and change it to your preference!
Useful Links
Eversoul on GameLoop: https://www.gameloop.com/game/role-playing/eversoul-on-pc
Eversoul on Google Play: https://play.google.com/store/apps/details?id=com.kakaogames.eversoul&hl=en&gl=US
Eversoul Asia Discord: https://discord.com/invite/ZcTNEmbcGT
Eversoul NA/Europe Discord: https://discord.com/invite/v5KTAj9rzv
Cat Mart: Building a Feline Empire, One Meow at a Time

2023-08-02

Gunstars - Battle Arena: Unleash Your Inner Warrior and Dominate the Arena

2023-07-28

Indus Battle Royale: Conquer the Ancient Realm of Warfare

2023-07-28

The Lord of the Rings: Rise to War - A Legendary Journey through Middle-earth

2023-07-27

Merge Mansion: A Magical Blend of Puzzles and Mysteries

2023-07-27