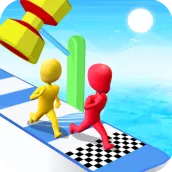 Fun Sea Race 3D
PC
NT Play Sport
قم بتنزيل Fun Sea Race 3D على جهاز الكمبيوتر باستخدام GameLoop Emulator
Fun Sea Race 3D على الكمبيوتر الشخصي
Fun Sea Race 3D ، القادم من المطور NT Play Sport ، يعمل على نظام Android في الماضي.
الآن ، يمكنك لعب Fun Sea Race 3D على جهاز الكمبيوتر باستخدام GameLoop بسلاسة.
قم بتنزيله في مكتبة GameLoop أو في نتائج البحث. لا مزيد من الانتباه إلى البطارية أو المكالمات المحبطة في الوقت الخطأ بعد الآن.
ما عليك سوى الاستمتاع بجهاز Fun Sea Race 3D على الشاشة الكبيرة مجانًا!
Fun Sea Race 3D مقدمة
New Free Fun Sea Race 3D Game.
Compete with others and get an amazing super running experience.
Addictive Fun Sea Race 3D run presents to you a far better fun racing game to enjoy your time.
Play amazing super race game all the hard yet funny running and challenging levels of fun colorful themes racing run. Another obstacle it will make you energized and pass your time with kid's game and fun to play fun super race in a 3D game.
Very smooth control and easy to play Fun Sea Race 3D Game. Avoid the different types of race games like super game and race through different stages to finish the race. Super race game theme in the pool and make sure you avoid all the obstacles and reach the finish line safely. Three players will race at the same time, so you should beat them and avoid getting hit from obstacles at the same and finish the race.
Fun Sea Race 3D Game a new free racing game. Run, Climb and dodge all types of to Obstacles on the tracks and be the first to finish the race to win. This Fun Sea Race 3D is Fun Free New Running Game easy to play and very addictive game. The Fun Sea Race 3D is one of the best free race games 2020 and it's the most insane new racing game of 2020.
Enjoy this super cool ultimate parkour run and 3D race through the extreme obstacle course. In this runner and flipping game, Fun Race 3D, you can join one of the most amazing and exciting parkour free running games for the fun run 3 and flipping games and become the best among other parkour and epic speed run roofers and athletes game. Do insane jumps and flips down the park or obstacles and land in the goal area in this parkour and freestyle speed run and parkour flight simulation game.
It's easy to play but gets tricky as level increases. You need to spend a lot of time to master this running epic 3D game. Compete with other Parkour and challenge them in doing the flip, slide, run, and stunts. Defeat your opponents in impossible extreme obstacles and stunts.
Tap to Jump, flip, and run in this simple yet addictive running 3D game.
Complete all the Fun Race levels with lots of different obstacles and experience a breathtaking new challenge.
Features of Fun Sea Race 3D:
🥇 Realistic parkour tricks to accomplish challenging missions
🥇 Amazing real race & fun runner with simple & fast controls
🥇 Great parkour city with several locations for hard running games
🥇 Parkour and running sim with realistic parkour tricks
🥇 Realistic AI & Physics of fun race simulator
🥇 Fantastic parkour escape missions and sliding & flipping games
🥇 Parkour flight, jump and flip games with best roofers and parkour runner
🥇 The endless thrill from extreme track running
🥇 Best offline play mode and free to play epic parkour stunts
Download now and begin the flight, running, jumping & flipping action!
If you like this Fun Sea Race 3D game, please kindly rate us ★★★★★ and leave us a review!
We are always striving to provide the best user experience for our users.
We are also looking for your feedback, suggestion, or recommendation. Please, feel free to let us hear from you at your review so we can continue to bring you the best experiences and updates these Fun Sea Race 3D game.
أظهر المزيد
معاينة
معلومة
مطور

NT Play Sport

احدث اصدار

17

آخر تحديث

2022-08-12

فئة

سباق

متاح على
أظهر المزيد
كيف تلعب Fun Sea Race 3D مع GameLoop على جهاز الكمبيوتر
1. قم بتنزيل GameLoop من الموقع الرسمي ، ثم قم بتشغيل ملف exe لتثبيت GameLoop.
2. افتح GameLoop وابحث عن "Fun Sea Race 3D" ، وابحث عن Fun Sea Race 3D في نتائج البحث وانقر على "تثبيت".
3. استمتع بلعب Fun Sea Race 3D على GameLoop.
Minimum requirements
OS
Windows 8.1 64-bit or Windows 10 64-bit
Storage
1GB available space
Recommended requirements
OS
Windows 8.1 64-bit or Windows 10 64-bit
Storage
1GB available space
Extreme Car Driving Simulator
تحميل
BTS ROAD - ARMY Color Ball Til
تحميل
Bubble Cat - Bubble Shooter
تحميل