Playmods: A Free and Easy Mobile Game Platform with Tons of Game Mods
2023-09-20
Table Of Contents
A quick and easy use mobile game platform
A unique and practical game mod manager
An all-powerful and infinite play space
Playmods is a quick and easy use platform for games and game tools or mods. In Playmods, players can download the latest and most comprehensive range of mobile games for free, without paying or registering.
A quick and easy use mobile game platform
In Playmods, there are daily-update latest mobile games, Includes a variety of different types and different versions of the game. Including Casual Games, Action Games, Puzzle Games, RPG Games, Simulation Games, etc. And including both official versions and modified versions ,to meet the different needs for different players. Such as Grand Theft Auto: San Andreas, in playmods, there are many versions of the game from the original official version for players who want to enjoy the real streets in San Andreas, to unlimited ammo version for players who want to blow off some steam and relax, and there are also version with game mod to player want to have new experience in this old game.
At the same time, Playmods always listening players' voice, players can propose games that they would like to see in platform, they would like to update, or modified to Playmods. Playmods will focus on player feedback. Players can also book upcoming new games. And when the new game is launched, players will get the new games they have been waiting for a long time in the first place.
What's more, Playmods is not only a game downloader, players can also browse the latest and most comprehensive game information and guides in Playmods. Want to know the latest game updates? Want to know how to download and install the game you like? Want to know the latest and most fashionable games? Then check out articles in Playmods!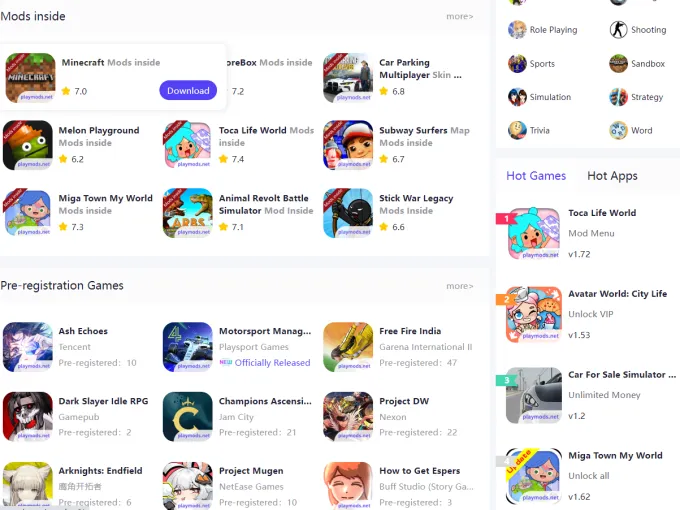 A unique and practical game mod manager
In addition to free and fast game downloads and the first-hand game information, one of the most eye-catching feature of Playmods is that it has a large number of excellent game mods for many games.
Mod refers to the unofficial aspects of a game, that is, the modifications made by the player to the game. In addition to the simple modification of the game data, mod also includes the addition of new game content, mechanics, etc. The original game content will be expanded and improved. Which makes the game more fun and players can spend more time in it without getting bored.
Playmods includes a great number of game mods for many games. Including Minecraft, Melon Playground, Truckers of Europe 3, Terraria, etc. In the past, players may need to spend many time to find and download the game mod they want, because game mods are made by players and their mods are scattering all over the internet. But now all they needs can be found in Playmods! Such as Minecraft, You want to change a new skin for your character? Choose what you like from hundreds! You want fight like Captain America? Do it as easy as Captain America will do! Want to visit Disneyland in Minecraft version? You will meet your dreamland ASAP!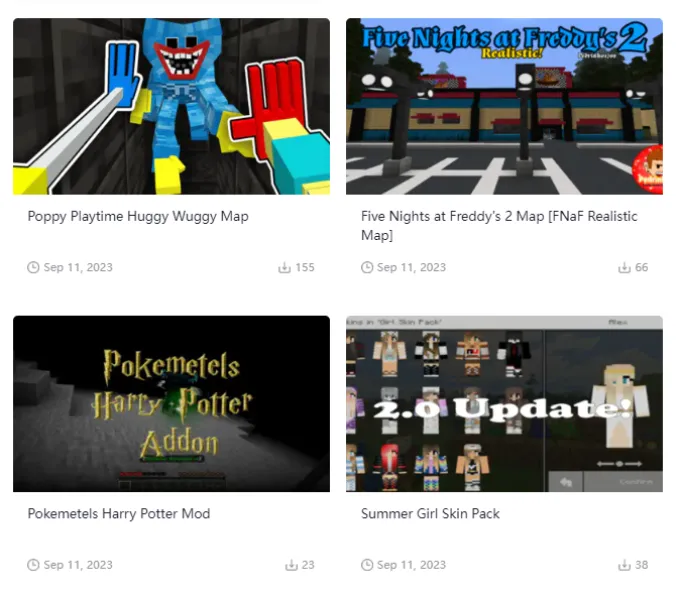 What's more, many games in Playmods has a unique mod menu function, A built-in menu in the game, that players can looks the mod they want to download and install while opening the game! Installing a game's mod is very difficult since the game's mods re unofficial, and most of games don't have a direct support for game mods. Players need to manually place mod files into the game's files, and sometimes even modify the original files and game's data so the mod can work. These actions are not friendly even very difficult and fraught with risk for the average player who are not good at computer programming. But in Playmods, players only needs one tap and mod menu will finish these hard Mod download and installation process automatically, and it is guaranteed to be 100% usable and stable.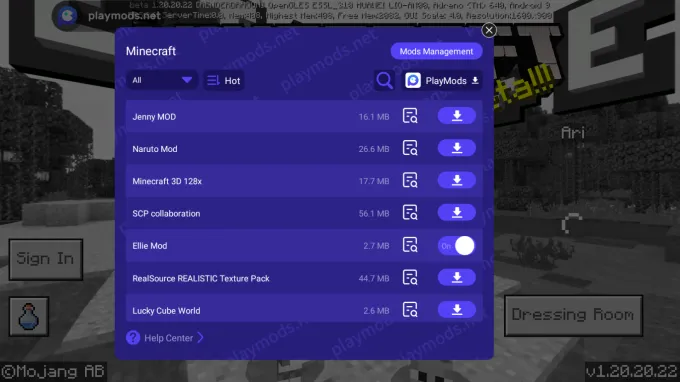 An all-powerful and
infinite play sp
ace
Another unique feature of Playmods is the Play Space. Once the game is loaded into the Play Space, player can modify the game and mod directly in the game in real time while playing the game! You don't need any modification version of the game anymore, because now you can make one by yourself! In Play Space, you will have:
Cheat Engine: You can directly modify the game value and data while playing. Lack of money? Type a number you want! Do you need a lot of specific materials? As much as you want, just be careful about your backpack capacity. I mean you can also modify it first to make sure it holds the amount you want.

Speed Hack: You can modify the game speed while playing. Feel the game are working too fast so you can't make right action?Just slow it down. You need to wait a whole night in real time just for your crops to grow? You can make the time ten times faster!

Auto tapper: You can set the connector to generate scripts, and the scripts will help you to tap in the game in the times and speed you want. No more stupid tapping game! Save your screen and your poor fingers!

Split Screen: you can split your screen, make the game you are playing only occupy the half of your screen and keep another half for other applications at the same time. You can play game while typing with others or keep a map so you will not miss yourself or items in the game!

Rotate Screen: By using this function, you can rotate your screen, if you need. You may feels the USB cable impede your hand to play the game. Or more genius idea, make a landscape mode game become portrait, so you can play with one hand!
Play Space is a feature full of Playmods's style-- do everything automatically, download and install directly, without any manual tap or setting. What's more, it regardless of any restrictions on the version, it can be directly overwritten and installed in the game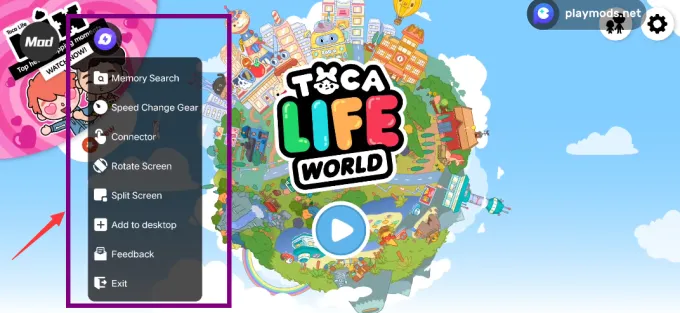 PlayMods: The Ultimate App for Mod Games and More

2023-10-13

PlayMods: Your Ultimate Gaming Platform to Modify

2023-09-13

Upcoming Android Games: What Critics Are Saying About the Latest Titles

2023-08-01

Our Picks On Best Story Based Games

2023-07-25

Our Picks on Best Hyper Casual Games

2023-07-24