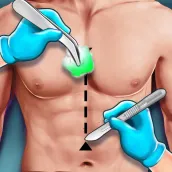 Surgery Doctor Simulator Games
para PC
Quiet Games Inc
Descarga Surgery Doctor Simulator Games en PC con GameLoop Emulator
Surgery Doctor Simulator Games en PC
Surgery Doctor Simulator Games, proveniente del desarrollador Quiet Games Inc, se ejecuta en el sistema Android en el pasado.
Ahora, puedes jugar Surgery Doctor Simulator Games en PC con GameLoop sin problemas.
Descárgalo en la biblioteca de GameLoop o en los resultados de búsqueda. No más mirar la batería o llamadas frustrantes en el momento equivocado nunca más.
Simplemente disfrute de Surgery Doctor Simulator Games PC en la pantalla grande de forma gratuita!
Surgery Doctor Simulator Games Introducción
Become part of care simulator as emergency hospital simulator in ambulance doctor simulator games. Being part of doctor wali game perform duties as a surgeon simulator in doctor games or in surgery games. Enjoy the best free hospital game.
Become the best surgeon doctor & crazy surgeon in the emergency surgery operation games and ER surgeon simulator games in the doctor hospital games to play offline doctor game
Emergency Hospital Surgery Simulator Games: Free Offline Doctor Games gives you the real and doctor games feel. You are appointed as a crazy surgeon doctor in Emergency Hospital Games: Free Doctor Games & now it's your duty to treat your patients with multi diseases surgeries or use all your skills to perform surgery simulators in free hospital games. The Emergency Hospital Surgery Simulator Games: Free Doctor Games hospital room is well equipped with all the medical doctor surgical instruments to perform emergency doctor simulator by real ER doctor in hospital games. The Emergency Hospital Surgery Simulator Games: Free Doctor Games is a free doctor simulation offline surgery game where you experience being a multi surgery doctor, the patients keep coming in ER doctor games & you're the only ER doctor who can save emergency patients' life with real doctor surgical tools within this free games. Become a lifesaving ER doctor and best hospital doctor herein offline games to perform the surgery simulator on your patients. These offline games provide the best surgery simulation doctor experience, treat open-heart surgery patients and make patients smile again with their loved ones. But first, you need to know the patient's history before treating and sending patients to the ER emergency operation room in this doctor game.
Stomach Surgery Games
The ambulance has brought a little boy with a stomachache, for which you are going to operate now in the hospital operating room. Get ready for stomach surgery, you need to make an incision on his tummy to pull out junk food from his stomach in hospital games.
Brain Surgery Games
A patient has been diagnosed with a brain tumor in his head that can affect his arm, finger, and leg movement herein hospital games. The brain controls our heart, eye, ear, nose, kidney, liver, lungs, stomach, and all parts of the body. Be a virtual doctor simulator to perform the operation in Emergency Hospital Surgery Simulator Games: Offline Doctor Games. Call all the other surgeon doctors on duty to keep a check on the patient's organs while you carry out the multi-surgery doctor simulation.
Throat Surgery Games
In hospital game, a patient is suffering from a throat infection & you need to treat them well to regain their health in Offline Doctor Games. With a throat problem, ER patient might get a problem with their ears & eyes too. Consult an ENT (Ear, Nose, Throat) surgeon doctor to perform an ER emergency throat surgery simulation in-hospital surgery simulator games.
Eye Surgery Games
Hospital game has come with his mommy to get his eyesight checkup from a specialist eye surgery doctor. Use real doctor simulator medical instruments to stretch open eyes, remove germs and kill unwanted bacteria from kids' eyes with laser treatment within these free games!
Knee Surgery Games
patients are moaning in pain as he got a knee injury that can affect his ankle, leg & foot movement in Free Offline Doctor Games. To avoid any other damage, prepare for the er emergency knee doctor simulator in hospital games.
Ribcage Surgery Games
Another ER patient met with a bad accident & his ribcage got broken. The broken ribcage needs ER emergency attention from the best doctor surgeon else it may damage the respiratory system. Clean away the blood to avoid infection in doctor simulator games.
Download Surgery Doctor Simulator Games Free from Playstore.
Mostrar más
Avance
Información
Desarrollador

Quiet Games Inc

La última versión

2.1.20

Última actualización

2022-11-24

Categoría

Educación

Disponible en
Mostrar más
Cómo jugar Surgery Doctor Simulator Games con GameLoop en PC
1. Descargue GameLoop desde el sitio web oficial, luego ejecute el archivo exe para instalar GameLoop.
2. Abra GameLoop y busque "Surgery Doctor Simulator Games", busque Surgery Doctor Simulator Games en los resultados de búsqueda y haga clic en "Instalar".
3. Disfruta jugando Surgery Doctor Simulator Games en GameLoop.
Minimum requirements
OS
Windows 8.1 64-bit or Windows 10 64-bit
Storage
1GB available space
Recommended requirements
OS
Windows 8.1 64-bit or Windows 10 64-bit
Storage
1GB available space
Mathway: Scan & Solve Problems
Descargar
Más aplicaciones de Quiet Games Inc
Ver todo
Más aplicaciones de Quiet Games Inc
Ver todo
City Train Driver Simulator 3D
Descargar
Car Games: Car Racing Game
Descargar
Police Transport Car Parking
Descargar